A luxury resort in central Queensland has taken "getting away from it all" to a whole new level.
MOUNT MULLIGAN, QUEENSLAND – 08/11/2019
Nestled in rugged terrain, Mount Mulligan Lodge is located on a remote 28,000-hecatre cattle property and is only accessible by a 35-minute helicopter ride or a 3-hour 4WD journey along unsealed roads from Cairns. Every room offers views to the spectacular backdrop of Mount Mulligan and the picturesque eucalyptus-framed weir just beyond the lodge. This dramatic outback landscape can be enjoyed from open timber decks with outdoor baths for the ultimate luxury Australian outback experience.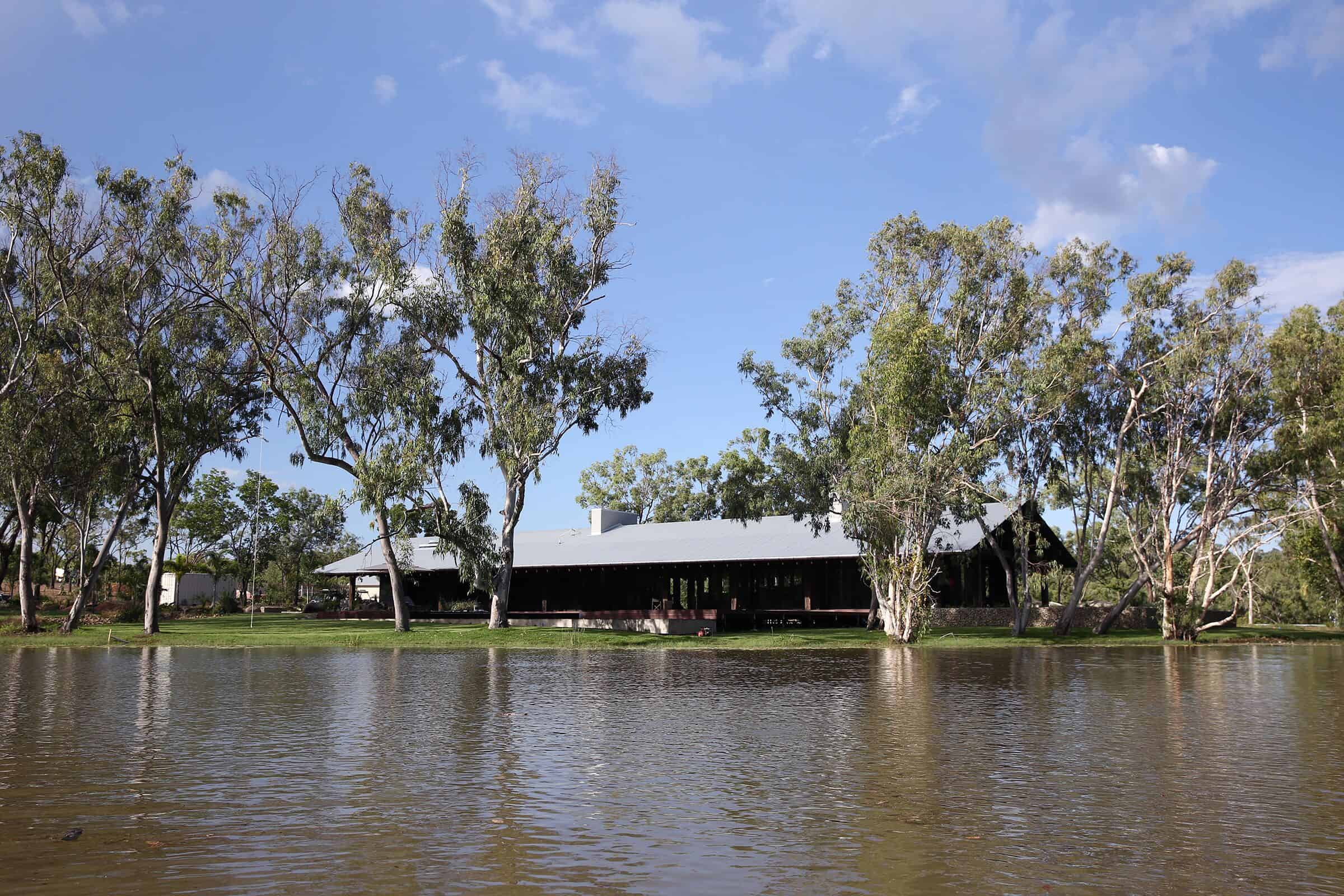 Complementing this stunning natural setting and remote location is a palette of woolshed-worthy materials which draw from a distinctly Australian design aesthetic. The corrugated iron roofing echoes the nearby water tanks and the interiors are furnished with luxurious linen, sisal rugs, bronze and marble bathroom fittings and leather furnishings but it is timber that is truly the star of this outback show.
Guest rooms are lined in spotted gum cladding and flooring and the lodge's primary structure is constructed from large iron bark sections, salvaged from Sydney's Pyrmont wharf, complete with rusted bolts and notches that spell out the story of its previous maritime life. The resort's "Sunset Bar" has a main bar and shelving also constructed from the reclaimed wharf timber. The bar area is imbued with a sense of drama through an exterior and interior clad in Woodform's Sculptform burnt and charred Ash – a beautiful matt-black, burnt and charred timber product.
Glue laminated timber roof rafters provide large overhanging eaves which deliver welcome shading to the generous areas of timber decking. Design features such as timber louvres and door frames are a further nod to the traditional homesteads of Central Queensland but with a twenty-first century update. 
The extensive use of timber at Mount Mulligan Lodge was also not only a choice governed by the desire to achieve an aesthetic sympathetic to its surroundings, but a hope to deliver, in the words of architect David Dubois of Dubois Building Design and Interior Architecture "an eco-friendly, self-sustainable resort." He continues: "The use of Australian sourced and certified timber was important from an authenticity and environmentally sustainable approach." It was this approach that saw Dubois take out the recent Australian Timber Design Award for the use of Australian Certified Timber.
Dubois continues; "Where possible it was important to showcase Australian timber species, particularly the Queensland Spotted Gum species." Dubois estimates that around 75% of the timber used in the Mount Mulligan Lodge project had certification through the Australian certification body Responsible Wood or through the international certification body Programme for Endorsement of Forest Certification (PEFC).
One example is the Spotted Gum that was used for the flooring and supplied by Boral Timber. In the view of Responsible Wood CEO Simon Dorries: "Certification can provide architects with irrefutable proof that the timber they have specified has been certified against the Australian standards for sustainable forestry management (AS 4708) and carries a demonstrative and valid Chain of Custody (AS 4707)."
The remoteness of this location presented challenges which became opportunities for employing other sustainability initiatives beyond the use of sustainable timber. With no grid connected services or telephone, the building's design employs energy efficiency and passive environmental design techniques to maximise comfort given the region's extreme seasonal temperatures, humidity and very low rainfall.
The lodge is 100% solar and battery-powered, harvests rainwater and treats and utilises its own waste for use in a kitchen garden. The three gourmet meals per day offered to guests use, where possible, the fruits and vegetables form the resort's own drought-tolerant gardens and meat from the surrounding cattle station.
It may well be worth getting lost in the outback to find this architectural gem.